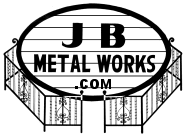 Welcome to JBMetalWorks.com
J. B. Metal Works, Inc., designers of ornamental iron. We specialize in railings, gates, fencing, columns, steel sales, and fabricating. We have been servicing the public since 1937. Our full-featured website will be opening in the near future. In the meantime please feel free to contact us at [email protected] for any reason.





(Click on image(s) to see a larger version.)


Please click here to view our extended online photo gallery
J. B. Metal Works, Inc.
1325 Lee Street
Des Plaines, Illinois 60018 USA
1.847.824.4253 voice
1.847.824.7958 fax
E-mail J. B. Metal Works, Inc.
© 2002-2023 J. B. Metal Works, Inc. All rights reserved.
Website designed and maintained by Burval, LLC